If you had any question whether Selena Gomez was still a member of the Taylor Swift squad, she just answered: she's "ride or die."
The Lose You To Love Me singer posted an absolutely unequivocal declaration of BFF status to her Instagram Story on Monday afternoon.
But it isn't what's in the post; it's what's not there. Not anymore anyway.
Video: 'Super Single' Selena Just 'Wants To Cuddle'
OK, rewind — first Selena posted this pic to her Story: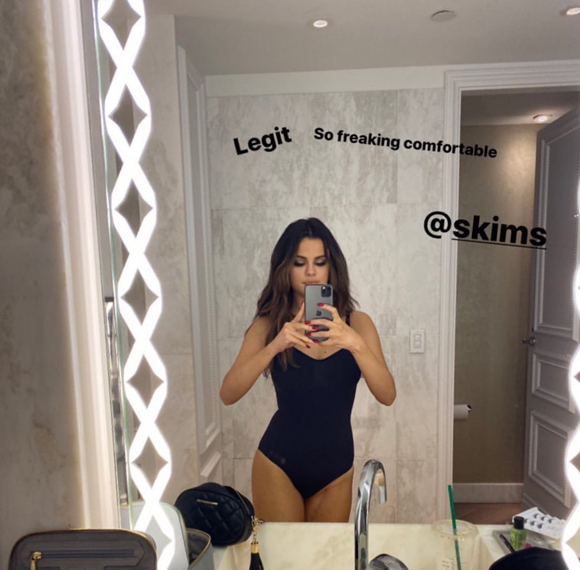 Yep. It's a promotion — paid or not — for Kim Kardashian West's SKIMS shapewear (formerly KIMONO, but we won't bring that up — oh, wait oops).
That post actually got deleted just minutes later, though this is of course the Internet and therefore it got screen-grabbed and is now around forever.
And in its place Selena posted this photo, one with a message hopelessly devoted to bestie Taylor: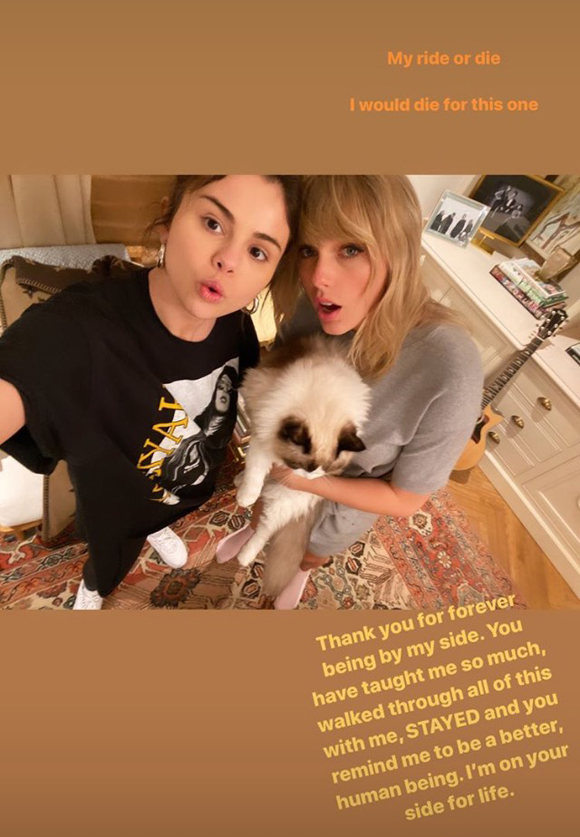 We'll save you the neck pain; she wrote:
"Thank you for forever being by my side. You have taught me so much, walked through all of this with me, STAYED and you remind me to be a better human being. I'm on your side for life."
Awwww. Did she also "remind" her to be a better friend? And to take down that post promoting her nemesis' product ASAP??
Hmm.
Selena deleted a post with positive things to say about Kim, then took it down and put an extremely effusive post praising Taylor in its place. Seems like quite a coincidence.
What do YOU think? Did Selena realize what she did and try to make up for it? Did Taylor reach out push her to take it down? At this point neither would surprise us — it seems like Taylor is very particular about who gets to stay in her good graces, and gushing about Kim would definitely be a violation of the membership agreement.
Related: Selena Has Her Own Feud To Deal With
Tay and Kim K have been at odds since Kanye West released his infamous song Famous, in which he rapped:
"I feel like me and Taylor might still have sex / Why? I made that bitch famous"
And of course, he escalated things with a music video featuring a lifelike nude replica of Taylor in bed with him.
At the time the Shake It Off singer called out the song as sexist and disgusting — until Kim released snippets of a recorded conversation between Ye and Tay in which she seemed to give him her blessing on the controversial lyrics.
Not only was Taylor pissed about her private phone call being leaked, she also later explained the context behind the call — that "two-faced" Kanye had been tricking her behind the scenes to make her look bad in public.
So yeah, the beef is still cooking pretty darn hot between Taylor and the Kardashian-West fam.
Meanwhile when you are in Mz. Swift's good graces, you get some pretty amazing things said about you AND your new music, as evidenced in Tay's latest convo with Zane Lowe on Beats 1 in which she said about Selly:
"I'm so proud of her. She's been through so much. I've watched so much happen in her life, and she is such a revelation because now she's making her best stuff. I am really excited because when somebody has had great life experience, you know really though things they have had to go through, and they can process that and make art that's going to help other people, that's what kind of song this is. She played me the video, it's the best thing she's ever done."
We mean, whose side would YOU choose in this feud if you were Selena??
[Image via Ivan Nikolov/WENN/Avalon.]
The post Selena Gomez DELETES Kim Kardashian Promo & Replaces It With Taylor Swift Appreciation Post! appeared first on Perez Hilton.